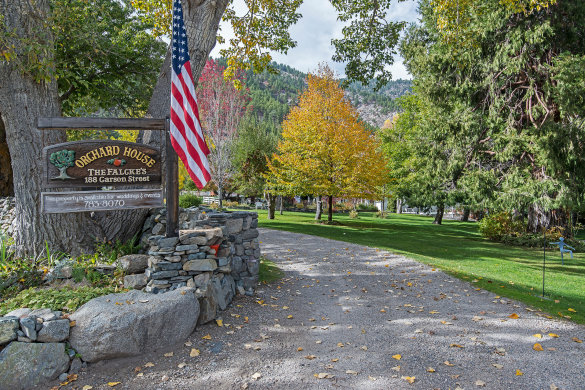 Once in a lifetime an opportunity to own one of the most prestigious historic properties in the Town of Genoa comes along and this is it… The Orchard House is located on a beautiful park like lush 2.19 acres with varieties of mature fruit trees and one of the most beautiful settings in the entire Carson Valley. The main residence, guest house and apartment combine a total of 4836 sf of comfortable living space along with a 5 car garage, workshop and an ice house. This breathtaking property currently enjoys multiple uses, it is zoned SFR-1; however, it is bound to the north and south sides by Neighborhood Commercial. The Orchard House is the first licensed Bed and Breakfast in all of Douglas County and is well known for hosting weddings and special events over the years. There are endless possibilities for this property. The main residence is comprised of 3 bedrooms, 2 baths and a great room with stone fireplace and wet bar. There is an office which has an additional bed. In addition to the main residence, there is a 2 bedroom guest house which was completely remodeled in 2009. The 26'x68' detached garage was constructed in 2002. It is capable of housing up to 5 cars and miscellaneous other tools and equipment. There is a half bath downstairs and storage as well as a 1 bedroom living quarters on the second floor.
History of the Orchard House:
The Falcke Family property, also known as the Orchard House, located at 188 Carson Street, Genoa, NV, has been in the same family's ownership since 1875, when the original Patent was issued to Guiseppe Giardelli (current owner's great grandfather).  Mr. Giardelli operated a hotel, known as the Giardelli Exchange, which was located in the lower lawn area. It is believed that this hotel was destroyed by fire in 1880. His youngest daughter, Lena Rose Giardelli Falcke was born in the existing home in 1883. She spent the majority of her life on this property, living in the same home until her passing in 1982. An avid gardener and servant to all, she was affectionately known as "Aunt Lena".

From the beginning, the 2.19 acres comprising this parcel were devoted to sustaining the lives of the owners.  They had plentiful vegetable gardens, raised sheep, hogs, chickens, turkeys, calves and horses. There was a blacksmith shop, cabinet shop, sheep shed and other outbuildings dedicated to the support of the owners. While some of these outbuildings are no longer in existence, there are still portions of some that do. The old carriage house is used for storage and is connected to a workshop and new two story, 5 car garage. The old Cold Cellar (Ice House) is still used housing an extra refrigerator and freezer. Prior to modern refrigeration, buildings such as this were used for preservation of perishables. Ice was harvested from local rivers and lakes and distributed to residents by wagon. There was an outdoor kitchen / laundry. While the wood stove and laundry have been removed, this building  is currently used to house gardening and other supplies. The root cellar held hundreds of jars of canned fruits and vegetables as well as potatoes and onions. There are over 30 fruit trees with10 different varieties of apples, peaches, pears, cherries and plums. Many of these trees date back to the late 1800's.  Additionally, the largest known black locust tree in the State of Nevada, is located at this property's entrance on Main Street.
 Currently, the property enjoys multiple uses. While zoned SFR-1, it is bound on both the north and south sides by Neighborhood Commercial. While not being zoned commercial, the Orchard  House is the first licensed Bed & Breakfast in all of Douglas County. As such, it has hosted many weddings and special events over the years.
$2,500,000