Gardnerville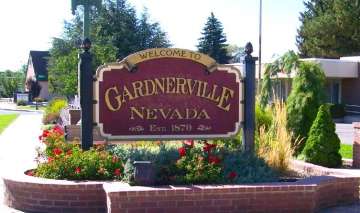 Town of Gardnerville:
Gardnerville Nevada is a beautiful community only minutes from Lake Tahoe and Carson City. With an active community and lots of great areas for families Gardnerville is an ideal place to live. Minden and Gardnerville are two sibling towns that abut each other and almost seem like one. An active community enjoys concerts in the park, car shows, and farmers markets. There are many different properties in Gardnerville from small ranchettes, large working ranches, custom homes on large & small lots, golf course homes, tract homes, investment properties and many commercial/industrial opportunities. There are a variety of different areas that Gardnerville encompasses including Downtown, Chambers Field, Ranchos, East Valley, Ruhenstroth & Fish Springs to name a few. Some of the neighborhods in downtown Gardnerville include Chichester Estates, Stodick Estates and Arbor Gardens. Contact Chad or Gina for more detailed information about the areas and what features each of them offer.
Gardnerville Homes range from $135,000 to $3,500,000
Gardnerville Land ranges from $150,000 to $2,000,000
Chambers Field:
The Chambers Field area of Gardnerville includes open pasture land, ranches and upscale subdivisions. Chambers Field is centrally located in the Carson Valley off of Highway 88 with easy access to South Lake Tahoe. Neighborhoods in the Chambers Field area include subdivisions from quarter acres to over an acre, as well as custom homes on acreage ranging from 1 to 20 acres. Some of the subdivisions include: Pleasantview, Silverranch, Heavenly View Estates and Rocky Terrace. Chambers Field is a very popular area of the Carson Valley with lots of great properties to choose from.
Homes in Chambers Field range from $300,000 to $2,000,000
Gardnerville Ranchos:
The Gardnerville Ranchos is a large area in the middle of Gardnerville. The Ranchos has a mix of properties from apartments, townhomes, tract homes and custom ranchettes that range from $125,000 and up. The Ranchos also has a bowling alley, commercial center with restaurants, convenient stores and small businesses. The Ranchos is a popular location in Douglas County due to the affordability, convenient location, great schools and Sierra Views.
Helpful Links:
Gardnerville Ranchos General Improvement District
Buckeye/ Pinenut areas of Minden & Gardnerville
The Buckeye/ Pinenut areas of Minden and Gardnerville are also considered "The East Valley." This area consists of properties on larger lots- mostly an acre and up. There are subdivisions with custom homes and CC&R's that include Sterling Ranch Estates, Starview Ridge, Pinion Ridge and Wildflower Ridge along with larger parcels with no CC&R's. Most areas are very horse friendly, but there are a few that do not allow horses. The Pinenut Mountains surround the East Valley and are great for dirt bike riding, horseback riding & hiking. The East Valley has great views of the Sierra Nevada mountain range and a convenient location for shopping in downtown Gardnerville. Schools that are zoned for the East Valley properties include: Minden Elementary, Gardnerville Elementary, CC Meneley, Carson Valley Middle School, Pa Wa Lu Middle School & Douglas High School.
Houses in the East Valley Range from: $200,000 to $2,500,000
Vacant Land in the East Valley Ranges from: $150,000 to $600,000
Helpful Minden/ Gardnerville Links:
The Town of Minden
The Town of Gardnerville
Minden Google Map
Gardnerville Google Map
Carson Valley Chamber of Commerce
Ruhenstroth:
Ruhenstroth is a neighborhood in south Gardnerville off of Highway 395. Ruhenstroth is a "horse friendly" area with many small ranchettes. Most properties in this area are on 1 plus acres. Ruhenstroth is surrounded by BLM (bureau of land management land) so there are many recreational activities allowed including hiking, horseback riding, dirt bike riding etc… Ruhenstorth is a very peaceful area away from town with space, great Sierra views and nice homes.
Homes in this area start at $250,000 and up
Land in this area starts at $160,000
Fish Springs Area:
The Fish Springs area is located off of Fish Springs Road in the East Valley of Gardnerville. Fish Springs is surrounded by the Pinenut Mountains and BLM land which allows for easy access to trails for horseback riding, dirt bike riding and hiking. Fish Springs is a high desert area and the properties are horse and livestock friendly. Homes in this area range from 1 acre and up and there are a variety of custom homes available. Fish Springs offers great views of the Sierra Nevada Mountain range and a quiet lifestyle.
Homes in Fish Springs range from $220,000 to over $1,000,000
Land in Fish Springs range from $179,000 and up
Gardnerville Homes For Sale

Sorry we are experiencing system issues. Please try again.
[optima_express_toppicks id="234562" includeMap="false